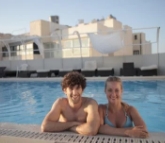 Pool Heating
When you check in to one of our private-pool homes, you'll be eager to get the pool party started.
But if your pool's too cold, you'll be left high and dry.
It can take days to heat up a pool.
But with ilovevh, you can check in, then dive in.
We can go to your rental before your scheduled arrival to start the pool-heating process, so your pool is just like you like it.