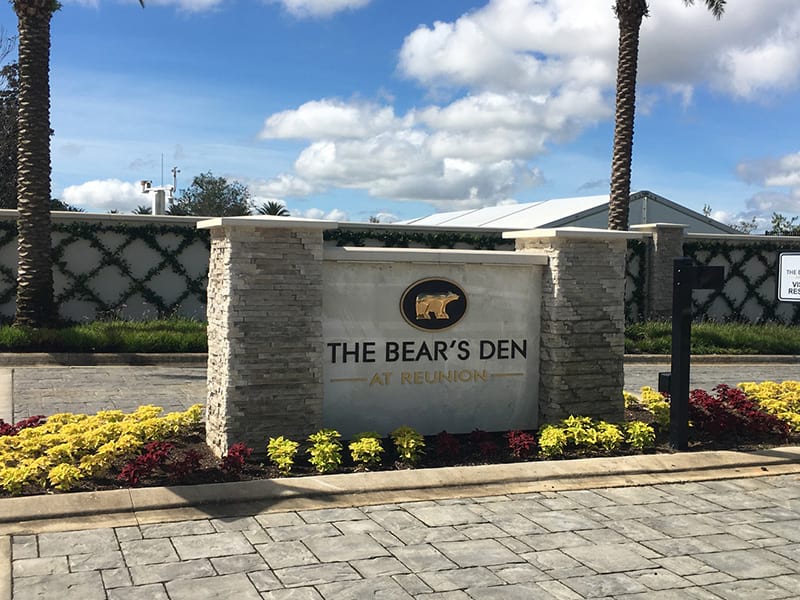 Bears Den Resort Vacation Rentals: Enjoy Your Vacation for the Best Deal
An exclusive enclave tucked away in Kissimmee's most prestigious resort, world-class golf and golf course views, top-of-the-line homes and 5-star attractions, and access to Orlando's most popular parks and attractions.
If that sounds like your idea of a great Orlando vacation, then Bears Den at Reunion Resort might be for you. Here you'll find single-family homes with 4 to 8 bedrooms, with stunning views of the newly renovated 17th and 18th holes of the Jack Nicklaus signature course, Tradition. Homes come with fully equipped kitchens, oversized bedrooms, and high-end furniture, as well as access to Bears Dens luxury clubhouse where you'll find a full restaurant, bar, and pool. And of course you'll enjoy access to all of Reunion's world-class amenities. Just be relax, ILoveVH is your source for great deals at Bears Den. So book today!
Why Rent A Vacation Home In Bears Den?
With custom single-family homes, stunning views, world-class private and shared amenities, and proximity to parks and attractions, Bears Den is one of Orlando's most exclusive vacation resorts.
Find 5 excellent reasons to rent a vacation home in Bears Den below!
1. The Luxury Your Family Deserves
Bears Den at Reunion Resort is one of the most exclusive enclaves, in one of the most exclusive vacation rental resorts, in Orlando.
Give your family the luxury they deserve with custom 4-8-bedroom single-family homes, views of the famous 17th and 18th holes of the Nicklaus course, access to the stunning Bears Den clubhouse and amenity center, and 5-star in-home amenities.
Standard in-home amenities include fully equipped kitchens, stainless appliances, high-end finishes, free Wi-Fi, walk-in closets, luxury his-and-hers bathrooms, oversized bedrooms and beds, large flat-screen tv's, DVD players, free cable tv, and more.
Some rentals even come with extravagant extras like private pools, home movie theaters, state-of-the-art game rooms, and themed bedrooms.
In short, if you want to level up the luxury of your next Orlando vacation, book a rental at Bears Den Reunion Resort – with ILoveVH.
2. Full Access to Reunion Community Amenities
With a Bears Den Reunion Resort vacation rental, you'll enjoy full access to the breathtaking, Mediterranean-style Bears Den clubhouse, where you'll find a restaurant, pool, fitness center, and more.
But Bears Den doesn't just get you in to the Bears Den Club.
You'll also gain access to Reunion Resort's 13 other neighborhoods, where you'll have your pick of 9 additional pools, 5 more restaurants, 2 playgrounds, and 2 fitness centers, plus tennis, pickleball, bocce, footgolf, miniature golf, a gift shop, golf cart rentals, and shuttles to the parks.
3. 3 Signature Golf Courses
All those great amenities, and we still haven't gotten to Reunion's best amenity of all.
With our selection of Bears Den vacation rentals, you'll enjoy discounted rates at Reunion Resort's 3 signature golf courses, considered 3 of the best in Central Florida.
Designed by 3 legends of the game, the Watson, Nicklaus, and Palmer courses offer 3 distinct rounds of par-72 golf for golfers of all abilities.
Need to get the rust off or stock up on balls and tees?
You'll enjoy full use of all Reunion golf facilities, including a golf academy with one-on-one instructors, a large driving range, and a high-end pro shop.
Reunion even offers a service that lets you ship your clubs directly to the resort, for easier travel whether you're flying or driving.
4. Proximity to Disney
Bears Den is just minutes from Magic Kingdom, the number-one theme park on earth.
Here you can cross all those classic rides off your bucket list, from Space Mountain to Haunted Mansion.
But there's more to see at Disney than the classics.
With 3 sister parks and dozens of brand-new attractions, there's much to discover at the Walt Disney World Resort.
Make sure you don't miss a moment of magic with a quick commute from Bears Den.
5. Convenient Overall Location
With a prime location in Kissimmee, Bears Den boasts convenient access to more than just Disney World.
Because where the most popular them park goes, other businesses follow.
Thus, our Bears Den vacation rentals are ideally located for great shopping, dining, and attractions.
You'll also find all your essentials nearby, from supermarkets, to gas stations, to top medical facilities.
Make The Most Of Your Vacation: The Best Things To Do Near Bears Den Resort
From theme parks, to golf, to fishing, Bears Den promises fun for young and old alike.
Discover 5 of the best things to do near Bears Den below!
1. Find Your Happy Place at the Happiest Place on Earth
Ready to take that long-awaited family vacation to Disney World?
Our selection of Bears Den vacation rentals are mere minutes from the Walt Disney World Resort.
Whether it's the enchantment of the Magic Kingdom, glamour of Hollywood Studios, culture of Epcot, or awe of Animal Kingdom, you're sure to find your happy place at the happiest place on earth.
Want to make sure everyone in your family finds their happy place?
Buy a park-hopper pass and make everybody happy!
2. Play Orlando's Best Golf Courses
Reunion Resort's 3 signature golf courses are highly regarded and available at discounted rates.
But if Reunion's 3 courses merely whetted your golf appetite, you're in luck.
In Kissimmee and wider Orlando area, you'll find many premier golf courses.
Enjoy easy access to Bay Hill Club, Celebration Golf Course, the National and International at Champions Gate, Mystic Dunes, and Highlands Reserve, just to name a few.
3. Discover the Simple Pleasures of Fun Spot
Not all Orlando theme parks have to blow your mind with state-of-the-art rides and attractions.
Sometimes the best pleasures are simple pleasures.
At Fun Spot America in Kissimmee, you can enjoy the amusement- and boardwalk-style charms of places like Coney Island and Pacific Park for a quarter of the price of the major theme parks.
From bumper cars and go karts, to chair swings, to tilt-a-whirls, carousels, and Orlando's only wooden roller coaster, Fun Spot promises to be a hit with the kids, and a nostalgia hit for the grownups.
4. Enjoy Florida's Best Freshwater Fishing
Did you know Kissimmee is home to some of the best freshwater fishing in the United States?
The Orlando area is pocked with lakes, but only when you start to get away from the city center does the fishing become any good.
And at half an hour from Downtown Orlando, Bears Den boasts access to clean, unspoiled water rich with fish.
Nearby you'll find Lake Toho, one of the best bass fisheries in America.
Other tasty local fish include crappie, redfish, catfish, and many more.
5. Spoil Yourself at the Loop
Your vacation is your chance to spoil yourself.
So don't miss your opportunity to do just that at Florida's largest outdoor mall, the Loop.
The Loop boasts all your favorite stores, from Famous Footwear, to Kohl's, to Old Navy, in a unique outdoor setting where sun is part of the fun.
Need a break from the heat?
Stop in for lunch at one of the Loop's many restaurants, or catch a matinee at the Regal Cinema, while you wait out the hottest part of the day.
Book Your Vacation Home Rental In Bears Den Near Orlando's Best Parks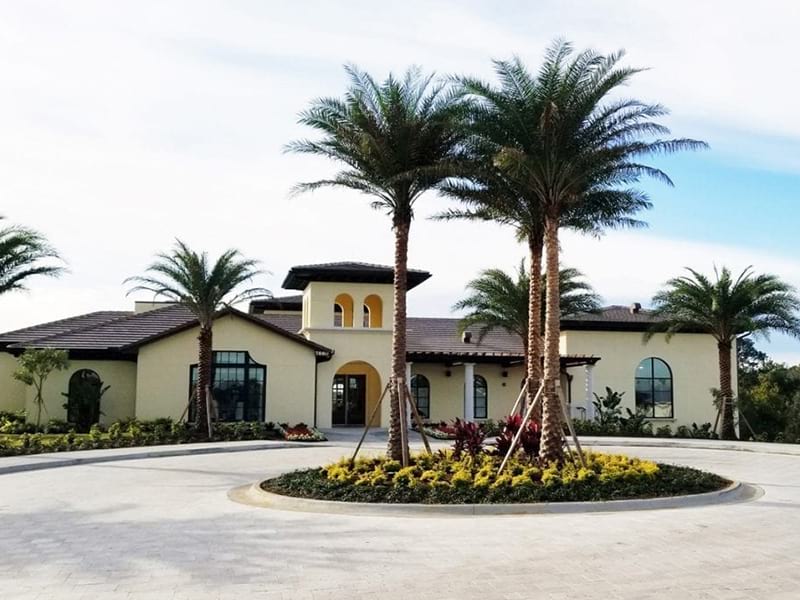 Bears Den is a secluded hideaway that lets you get away from it all.
And yet it's convenient to all major Orlando attractions.
See All Vacation Rentals Near Orlando FL
Bears Den Vacation Rentals near Disney World
Bears Den worlds away from the crowds.
It's also only 9 minutes from Disney.
Ditch the crowds and stay minutes from the magic – at Bears Den.
See All Orlando Vacation Home Rentals Near Disney
Bears Den Vacation Rentals near Universal Studios
Our selection of Bears Den vacation rentals at Reunion Resort are located just 21 minutes from Universal, where the magic of the movies meets the thrill of cutting-edge rides.
See All Vacation Home Rentals Near Universal Studio Orlando
Bears Den Vacation Rentals near SeaWorld
What's the only thing scarier than SeaWorld's revered roller coasters?
Whatever that sticky stuff is on the hotel's tv remote.
Save your courage for the coasters, and stay in a luxury home in a tranquil setting, at Bears Den.
See All Vacation Rentals Near Seaworld Orlando
See Other Vacation Homes Besides Bears Den Rentals
Bears Den is great, but it's only 1 enclave in 1 resort in Kissimmee, the vacation rental resort mecca of America.
Discover more great resorts below!
See All The Resorts Rentals Orlando Florida
1. Paradise Palms
Want to stay in a tropical paradise of sparkling blue water, lush green palm trees, and high-end homes?
You don't have to cross the 23rd parallel to find it.
At Paradise Palms, you can escape to paradise in the heart of Kissimmee.
See All Paradise Palms Resort Vacation Rentals
2. Windsor at Westside
Looking for vacation accommodations fit for a king?
Look no further than Windsor at Westside, where luxury homes and amenities, and a prime location near the parks, let you give your family the royal treatment.
See All Windsor At Westside Vacation Rentals
3. Windsor Hills
Planning a dream Disney vacation?
At 6 minutes' drive from the park, Windsor Hills is one of our most ideally located resorts for Disney-goers.
See All Windsor Hills Rentals
4. Highlands Reserve
Bears Den is one of the best golf resorts around, but if you're traveling on a budget, Highlands Reserve may be a better option for you.
This mid-priced resort is home to the unique Scottish links-style Highlands Reserve course, and a range of rentals – from condos, to townhomes, to villas – to suit a range of renters.
See All Highlands Reserve Rentals
Rent Your Vacation Home By Type
Want to level up the luxury of your townhome with a private pool?
Need single-family accommodations for both your two- and four-legged family?
ILoveVH brings you a diverse selection of home types so you can stay your way.
Explore them today!
Sensible Yet Spacious Luxury
See All Orlando Vacation Condo Rentals
See All Orlando Townhouse Vacation Rentals
Deluxe Vacation Homes
See All Orlando Vacation Home Rentals With Private Pool
See All Orlando Vacation Villa Rentals
See All Luxury Vacation Rentals Orlando Florida
Specialty Homes
See All Orlando Beach Vacation Rentals
See All Orlando Pet Friendly Vacation Rentals
Rent Your Vacation Home By Amount Of Bedrooms
How many bedrooms do you need?
Whether you want to keep the sleeping arrangements the same as at home, treat everyone to their own bedroom, or bunk up and save, ILoveVH can help you find the right number of bedrooms for your family.
1 Bedroom Vacation Rentals In Orlando FL
2 Bedroom Vacation Rentals In Orlando FL
3 Bedroom Vacation Rentals In Orlando
4 Bedroom Vacation Rentals In Orlando
5 Bedroom Vacation Rentals In Orlando
6 Bedroom Vacation Rentals In Orlando Florida
7 Bedroom Vacation Rentals In Orlando
8 Bedroom Vacation Rentals In Orlando
9 Bedroom Vacation Rentals In Orlando
10 Bedroom Vacation Rentals In Orlando Florida
12 Bedroom Vacation Rentals In Orlando Florida
14 Bedroom Vacation Rentals In Orlando Florida
See All Vacation Homes For Rent In Orlando, FL!
Didn't find what you were looking for at Bears Den?
Burrow into our full inventory to see all of our handpicked Orlando vacation rentals.
Your dream home could be just a click away!
The Best Of Orlando Vacation Rentals
See The Best Bears Den Vacation Rental Home Rentals And Book Now!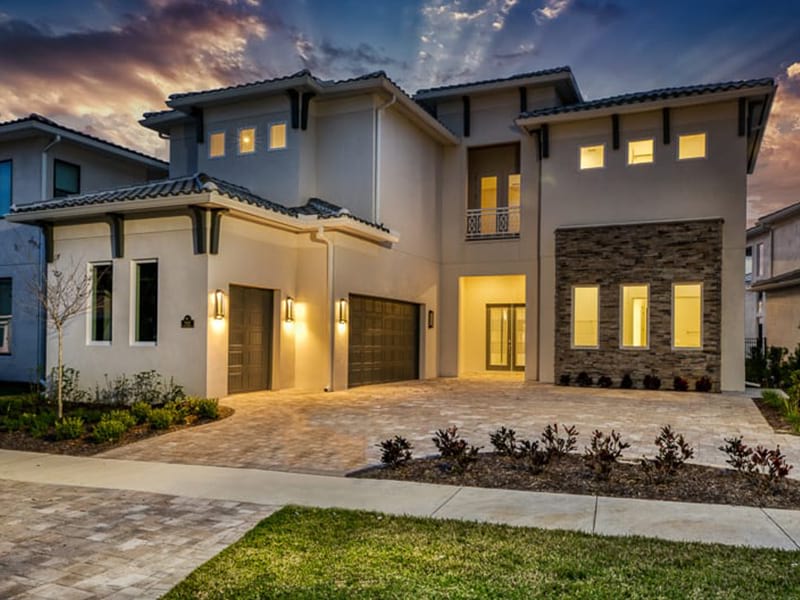 So, if you're looking for a secluded, luxurious place to stay that's close to great shopping, dining, and attractions, look no further than Bears Den.