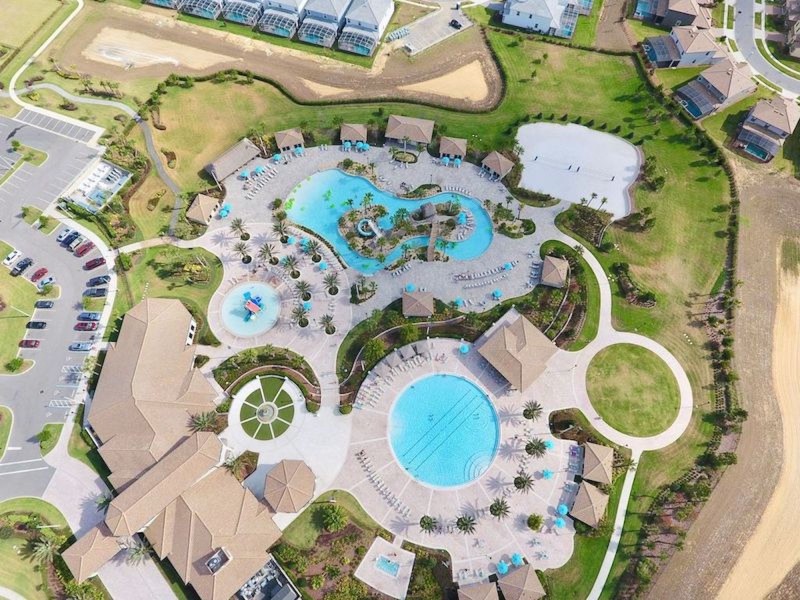 Champions Gate Vacation Rentals: Enjoy Your Vacation for the Best Deal
Want to vacation like a champion on your next Orlando vacation? ILoveVH is the team you need to succeed, and Champions Gate is the venue it will all go down. As Orlando, Florida's premier booking agency, we bring you the best Orlando, FL vacation rentals, at the best rates, in Champions Gate Resort. Enjoy 10-minute convenience to Disney, a wealth of resort-style amenities, and world-class golf, all from the comfort of a luxury home, and with ILoveVH, all for less. Book your home today!
Why Rent A Vacation Home In Champions Gate?
From Disney World to world-class golf, Champions Gate lets you vacation like a champion.
Here's why you should choose a Campions Gate rental for your next Orlando, Florida vacation.
1. Play Two of Florida's Best Golf Courses
Like to golf?
Then you'll love Champions Gate!
Champions Gate Resort is home to two of Florida's best golf courses.
With the Greg Norman-designed National and International, Champions Gate joined the ranks of Florida's great golf resorts, and became one of the state's premier golf destinations.
Test your short game on the Florida-style National, where small greens protected by plenty of hazards reward accurate shot making.
Want to test all your skills?
With monstrously long holes, many forced carries, and huge undulating greens, the Scottish links-style International course has one of the highest difficulty ratings in Florida.
2. Proximity to Disney
Planning a trip to Disney?
Champions Gate is just 10 minutes from the Walt Disney World Resort!
Because you'll be doing plenty of waiting at the parks; you shouldn't have to do it in traffic too.
Champions Gate Resort lets you put the traffic in your rearview and make a beeline for magic.
3. Luxury Homes of All Shapes and Sizes
Champions Gate isn't just a vacation resort; it's an upscale residential community many people call home.
Therefore, the homes here aren't your standard tourist fare.
These are high-end homes by the most renowned builders in America.
Luxury comes in all shapes and sizes at Champions Gate.
From condos to 14-bedroom mansions, these homes all feature modern open-plan living spaces, fully equipped kitchens with luxury finishes and updated appliances, flat-screen TVs with DVD players and free cable, and free Wi-Fi.
Plus, you'll find magical amenities that really enhance the enchantment, including private pools, in-home movie theaters, themed bedrooms and more!
4. Theme Park-Level Fun Free of Charge
As well as enchanted amenities at home, you'll find a full range of resort-style amenities just steps from your rental at Champions Gate's luxury clubhouse, Oasis Club.
From an incredible water park with heated pool, water slides, lazy river, and splash zone, to sand volleyball courts, to a family movie theater, tiki bar, arcade, restaurant, and more, champions gate brings theme-park level fun to you free of charge.
5. Get Away From it All and Have it All at Your Fingertips
Despite being just 7 miles from the parks, Champions Gate feels worlds away from the crowds.
Located in idyllic Four Corners, this resort lets you enjoy an Old-Florida setting hard to come by in one of the fastest-growing metropolitan areas in the US.
Surround yourself in the tranquility of misty green hills, Orange groves, and cow pastures  that all seem to go on forever.
And yet enjoy a 10-minute drive to the worlds most popular theme park.
In short, In Champions Gate you can get away from it all and have it all at your fingertips.
Make The Most Of Your Vacation: The Best Things To Do Near Champions Gate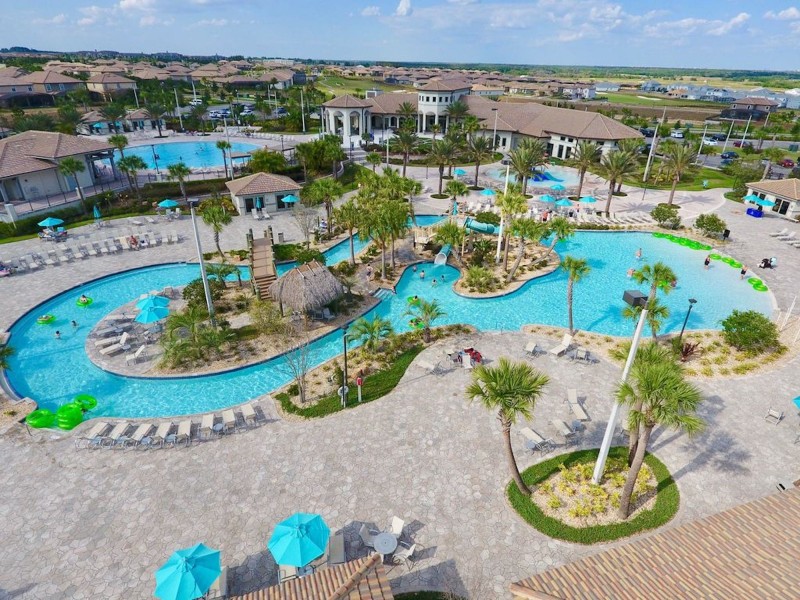 Our Champions Gate vacation rentals are ideally located for all kinds of amazing Orlando, FL  attractions.
Find the best things to do near Champions Gate below!
1. Disney World
The best thing to do near Champions Gate is also the happiest thing to do near Champions Gate.
Disney World has been the happiest place on earth for 50 years, delighting audiences with classic rides like Space Mountain and Jungle Cruise, as well as live shows, parades, and character meet-and-greets.
But Disney isn't just the classics; it's added plenty of new attractions to the Magic Kingdom, and plenty more to its 3 sister parks, Epcot, Animal Kingdom, and Hollywood Studios.
Buy a park-hopper pass and see it all!
2. SeaWorld
SeaWorld is Orlando's top theme park for wildlife and wild rides.
Like Disney, it's come a long way since the days of Shamu.
Now you'll find a focus on education and conservation, as well as a focus on thrills.
As home to Manta, Kraken, and Mako, named America's best roller coaster by USA Today, SeaWorld has become a mecca for coaster enthusiasts.
Like your fun on the cuddly side?
Shamu may be gone, but all his cute friends are still around, including penguins, seals, and otters you can observe and interact with.
3. Hot-Air Balloon Rides
Four Corners, Florida is hot-air balloon country!
Near our Champions Gate Resort vacation rentals you'll find several hot-air balloon companies offering amazing sunrise flights over the rolling hills and nature preserves of western Orlando, Florida.
See something few ever get to in this famously flat state: a view!
Private charters are available if you want it to be a family affair
Some companies offer picnics or breakfasts, but all end their flights with a traditional campaign toast.
4. Go on a Golfing Safari
When you stay in Champions Gate Resort, the world-renowned National and International golf courses are just steps from your home.
But they're not the only game in town.
At 1,300, Florida has more golf courses than any other state, and you'll find a lot of them in Orlando.
In west Orlando they're especially abundant, as land is more readily available.
Thus, with a Champions Gate vacation rental as your base camp, you can go on a golfing safari, with stops at premier Orlando, FL courses like Reunion, Highlands Reserve, and Bay Hill, home to the Bay Hill Invitational.
5. Shop at the Loop
The Loop is Florida's largest open-air mall.
Located just a short drive from Champions Gate, the Loop makes a fun way to kill an afternoon that doesn't cost any more than you want to pay.
But be warned – only the strong make it out of the Loop with a full wallet.
Our recommendation: it's your vacation, so spend away!
At the Loop, you're sure to find that special something for that special someone – especially if that special someone is you!
From Bed Bath and Beyond to Old Navy, to Michael's, Dick's Sporting Goods, and much more, the Loop has all the stores you know and love.
And with tons of great places to eat, you can leave with a full belly as well as full shopping bags.
Book Your Vacation Rental In Champions Gate Near Orlando, Florida's Best Parks
Champions Gate is just minutes from the magic of Disney.
But you'll also find convenient access to other premier Orlando parks.
See All Vacation Rentals Near Orlando FL
Champions Gate Rental near Disney World
Champions Gate lets you lodge in luxury just 10 minutes from the magic of Disney.
So if you're finally taking that Disney dream vacation, let ILoveVH help you find the dream vacation rental to match – at Champions Gate Resort in Orlando, Florida.
See All Orlando Vacation Home Rentals Near Disney
Champions Gate Rentals near Universal Studios
Universal Studios is located in the heart of Orlando, where traffic and crowds are just a universal.
But you don't have to bother with the hustle and bustle.
With convenient access to I4, Champions Gate lets you stay just 20 minutes away from Universal Studios, but a universe away from the crowded tourist district.
See All Vacation Home Rentals Near Universal Studio Orlando
Champions Gate Rentals near SeaWorld
SeaWorld is also nestled in a busy part of Orlando.
But from Champions Gate in quiet, idyllic Four Corners, you can be there in just 18 minutes while preserving your privacy.
See All Vacation Rentals Near Seaworld Orlando
See Other Orlando, Florida Vacation Homes Besides Champions Gate Rentals
Not Sold on Champions Gate just yet?
No worries!
ILoveVH is here to help you have the best vacation ever, at whatever resort best lets you do it.
So take your time and look around; we'll be here when you're ready to book the best home for your needs.
See All The Resorts Rentals Orlando Florida
1. Windsor at Westside
If you're planning a trip to Disney but don't want to stay at Champions Gate, Windsor at Westside makes a great alternative.
In fact, at just 13 minutes from Disney parks, it's even better located than Champions Gate.
At Windsor at Westside, you'll find vacation rentals, and amenities, fit for royalty.
You can rule over your own magic kingdom from a high-end 4 or 5-bedroom townhome or regal single-family home with 5 to 9 bedrooms, enjoying luxury features like fully equipped kitchens, private pools, and themed bedrooms.
You'll also enjoy access to a royal community amenities like a huge resort-style pool, tiki bar, sand volleyball court, and more!
See All Windsor At Westside Vacation Rentals
2. Storey Lake
If you like Champions Gate's idyllic setting, you might like Storey Lake too.
Here you'll find single-family homes and townhomes with beautiful lake views and quiet natural surroundings.
But nature is more than just ornamental at Storey Lake.
With rentable canoes and kayaks and a launch right on site, nature becomes part of the fun.
Moreover, Storey Lake is one of Orlando's most eco-friendly communities, with solar panels and green appliances included with every home.
See All Storey Lake Resort Rentals
3. Reunion Resort
Another great alternative to Champions Gate is Reunion Resort.
Because while Champions Gate is known for golf, if there's one resort that can give its golf game a run for its money, it's Reunion.
Here you'll find not 2 but 3 signature golf courses designed by 3 legends of the game, Arnold Palmer, Tom Watson, and Jack Nicklaus.
But while Champions Gate certainly puts up a good fight in the golf department, when it comes to lavish homes, Reunion is the undisputed champion.
Home to many golf pros and celebrities, Reunion Resort is full of multi-million-dollar mansions you can rent for your vacation.
And at 11 minutes from Disney, it's as practical as it is extravagant.
See All Reunion Resort Rentals
4. Solara Resort
A vacation to any of Orlando's theme parks can be fairly expensive, especially if the whole family's coming.
Solara Resort lets you stick close to home and save, with them park-worthy amenities all its own.
Your family will love the on-site water park with  huge zero-entry pool, water slides, lazy river, splash zone, and especially the FlowRider.
This innovative surf simulator uses real water and a real surfboard to create real surfing experiences at customizable levels of intensity.
Other amenities include a state-of-the-art fitness center, sand volleyball courts, a full soccer field, basketball court, aerobics room,  a gated entrance with 24-hour guard, sundry shop, playground, walking trails, and more!
See All Solara Vacation Homes
Rent Your Vacation Home By Type
Champions Gate has homes of all shapes and sizes, and amenities to meet a range of needs.
But only ILoveVH handpicks the best of the best and brings them to you for less.
To see the best of the best vacation rentals at Champions Gate, Orlando, FL, use the links below to jump to your preferred home type.
Sensible Yet Spacious Luxury
See All Orlando Vacation Condo Rentals
See All Orlando Townhouse Vacation Rentals
Deluxe Vacation Homes
See All Orlando Vacation Home Rentals With Private Pool
See All Orlando Vacation Villa Rentals
See All Luxury Vacation Rentals Orlando Florida
Specialty Homes
See All Orlando Beach Vacation Rentals
See All Orlando Pet Friendly Vacation Rentals
Rent Your Vacation Home By Amount Of Bedrooms
Have a certain sleeping arrangement in mind?
Ensuring your family has comfortable places to sleep is essential to family-vacation harmony.
So play it safe!
Filter your search by amount of bedrooms to find homes that meet your exact sleep specifications.
1 Bedroom Vacation Rentals In Orlando FL
2 Bedroom Vacation Rentals In Orlando FL
3 Bedroom Vacation Rentals In Orlando
4 Bedroom Vacation Rentals In Orlando
5 Bedroom Vacation Rentals In Orlando
6 Bedroom Vacation Rentals In Orlando Florida
7 Bedroom Vacation Rentals In Orlando
8 Bedroom Vacation Rentals In Orlando
9 Bedroom Vacation Rentals In Orlando
10 Bedroom Vacation Rentals In Orlando Florida
12 Bedroom Vacation Rentals In Orlando Florida
14 Bedroom Vacation Rentals In Orlando Florida
See All Vacation Homes For Rent In Orlando, FL!
Want to see all your options both in and outside of Champions Gate?
Our curated collection of Orlando vacation rentals ensures any home you choose will be a winner.
The Best Of Orlando Vacation Rentals
See The Best Champions Gate Vacation Rentals Homes And Book Now!
So, if you're ready to vacation like a champ, ILoveVH can help you book like one, too.
Book your Champions Gate vacation home rental today and save on your Orlando, with ILoveVH Team!