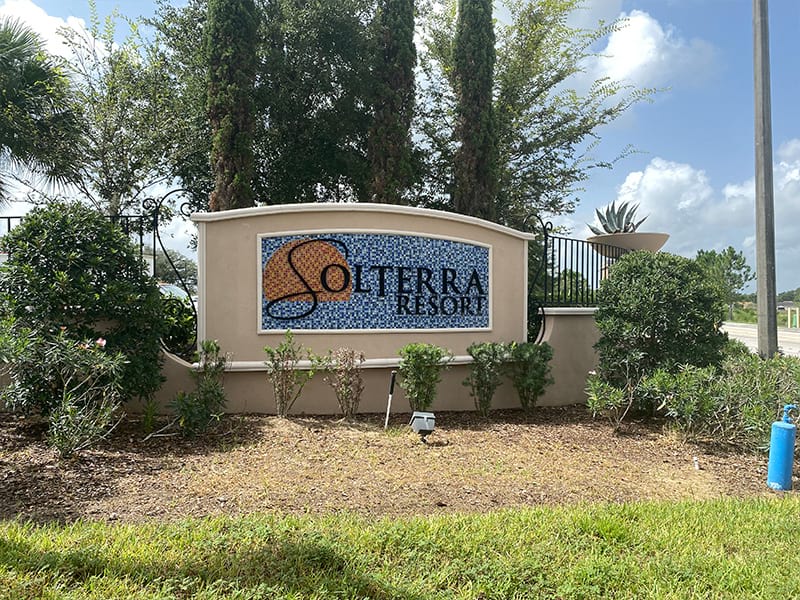 Solterra Resort Vacation Rentals: Enjoy Your Vacation for the Best Deal
If you're looking for a vacation rental near Disney World and other Orlando attractions, look no further than Solterra. Located in the town of Davenport, Solterra Resort is one of Orlando, Florida's newest, best vacation home rental resorts.
At 13 minutes from Disney, and less than half an hour from Universal and SeaWorld, you don't have to go far from Solterra to find fun. And with theme park-worthy amenities all its own, you don't have to go anywhere. ILoveVH brings you a full range of handpicked Solterra rentals – from condos, to townhomes, to villas – at great rates. Now comes the fun part: picking the rental of your dreams! Explore our selection of Solterra vacation home rentals and book today!
Why Rent A Vacation Home In Solterra Resort?
With new high-end homes and 5-star amenities in a prime Orlando location, Solterra is one of Orlando's best new vacation resorts.
Learn 5 reasons why you should rent a Solterra vacation home for your next Orlando vacation below!
1. Ideally Located for Disney and Other Attractions
Planning that big family trip to Disney World?
Our selection of Solterra Resort vacation home rentals are just 13 minutes from Disney parks.
Have other theme parks in mind?
At 20 minutes from Universal, and 23 from SeaWorld, Solterra lets you pick a park – any park!
Vacationing on a budget?
The parks can be pricey, but at Solterra, you'll find a world of more modestly priced attractions just up the road.
From Gatorland, to Fun Spot America, to Old Town, Kissimmee's amusement-style parks may be small in scale, but they're big on charm!
2. Full Range of 5-Star Amenities
Solterra's prime location means you don't have to go far to find fun.
But with free fun-filled amenities just steps from your rental, at Solterra you don't have to go anywhere at all.
Solterra Resort boasts a generous package of community amenities accessible to all guests of the resort.
Enjoy a full range of 5-star amenities such as:
zero-entry pool with beach
lazy river
water slide
poolside lounge
poolside cabanas
hiking trail
tennis courts
full restaurant
state-of-the-art fitness center
kids' playground
and more!
3. Robust Schedule of Events
As you can see, Solterra supplies the fun; you just have to choose what to do.
Still too much work?
Solterra Resort also employs a community planner organizing a robust schedule of events, and making those tough decisions for you.
You'll enjoy fun planned activities for adults, kids, and the whole family.
Depending on when you come, you'll be treated to events such as pool parties, social mixers, movie screenings, kids' games and sports, and more!
Check with the clubhouse to see what's on the docket for your stay at Solterra.
4. Top-of-the-Line Homes by Trusted Builders
Solterra may be one of Orlando, Florida's best vacation resorts, but it's also a high-end residential community with high-end homes to match.
Here you'll find a range of luxury homes by 4 premier American builders.
Choose from townhomes and single-family homes in an array of sizes and styles, and 4 community phases each with a distinct character all its own.
You can also pick from a variety of magical amenities such as private game rooms, themed bedrooms, home movie theaters, and more.
But no matter what home you pick, all of our Solterra Resort vacation rentals come with standard luxury features like fully equipped kitchens, open-plan living spaces,
You'll also have your choice of optional in-home amenities like themed bedrooms, private movie theaters, and more.
However, no matter what type of rental you choose, you'll find all Solterra homes come standard with fully equipped kitchens, updated finishes and appliances, oversized beds, and thoughtful attention to detail.
5. Safety and Security
From the safety of your family to the security of your belongings, on a family vacation, there's more to worry about than just crossing things off your itinerary.
Not at Solterra.
At Solterra Resort, they've done the worrying for you, and come up with solutions to mitigate your fears and protect your interests.
You'll enjoy the safety and security of a gated entrance, 24-hour guard, community-wide closed-circuit monitoring, private garages, "Ring" doorbell cameras, and more!
Make The Most Of Your Vacation: The Best Things To Do Near Solterra Resort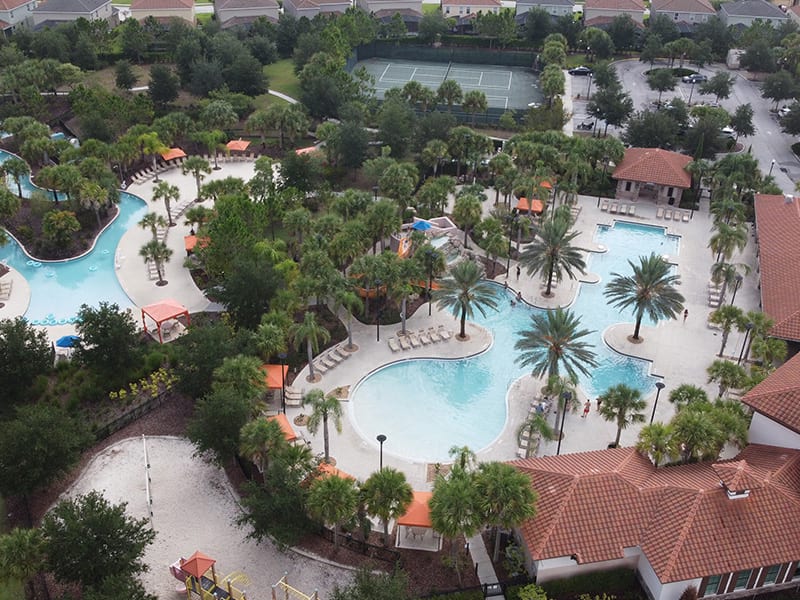 Solterra Resort vacation rentals boast a prime Davenport location near Disney and other attractions.
Discover our top-5 things to do near Solterra Resort and start planning your itinerary today!
1. Quick Access to Theme Parks
Solterra Resort is convenient to all major Orlando theme parks.
Enjoy quick and easy access to Disney World (13 minutes), Universal Studios (23 minutes) SeaWorld (21 minutes), as well as their sister parks like Hollywood Studios (Disney), Islands of Adventure (Universal) and Discovery Cove (SeaWorld).
You'll also find an abundance of amusement parks nearby offering amusement-style rides and games for as little as a quarter of what the big parks charge.
2. Renowned Golf Courses Nearby
Florida is home to more golf courses than any other state.
And West Orlando is one of the state's most golf course-rich areas.
Near Solterra Resort you'll find renowned courses like:
Southern Dunes Golf Course
Champions Gate's National and International
Ridgewood Lakes
Providence Golf Club
Reunion
Celebration
And more!
3. Stroll Shop Dine
Solterra is close to great shopping and dining, and several complexes where you can find the best of both in one place.
Whether you're looking for that new outfit, accessory, or one-of-a-kind gift, whether for fast food, themed family restaurants, or fancy dining, you'll find it near Solterra at places like:
Old Town – this classic Orlando shopping, dining, and entertainment complex has been a favorite with locals and tourists alike since 1986
The Loop – shop till you're loopy at the loop, Florida's largest outdoor mall
Disney Springs – what do you get when you mix the magic of Disney World with the magic of world-class shopping and dining? Disney Springs!
4. Wave Goodbye to the Ordinary Orlando Vacation in a Hot Air Balloon
Want to take you vacation to new heights?
West Orlando is hot-air balloon country, where you can take to the skies for a one-of-a-kind vacation experience, and a one-of-a-kind view of Central Florida.
Say goodbye to featureless flat horizons and hello to a tapestry of landscapes, from highlands to wetlands, to scrub, pine forests, pastureland, orange groves, and more!
Your family will never forget their hot-air balloon ride, and you'll never forget the looks on their faces.
5. World-Class Fishing
Our Solterra Resort vacation rentals are located in Davenport, in west Orlando.
Like the rest of Orlando, West Orlando has many lakes and creeks.
However, unlike the lakes and creeks near the city center, West Orlando's freshwater is pristine and teeming with fish.
In fact, you'll find many world-class fishing spots within just a few miles of Solterra, including Lake Toho, one of Florida's premier bass fisheries.
Other types of fish you can catch near Solterra Resort include redfish, catfish, crappie, and many more.
Book Your Vacation Home Rental In Solterra Resort Near Orlando Florida's Best Parks
Solterra boasts easy access to all of Orlando's best theme parks.
Here are a few of the best:
See All Vacation Rentals Near Orlando FL
Solterra Resort Vacation Rentals near Disney World
At Solterra, the worlds most popular theme park, host to 60 million visitors a year, is just 13 minutes away.
However, with a lush green setting and a quiet community atmosphere, you'd never know it.
See All Orlando Vacation Home Rentals Near Disney
Solterra Resort Vacation Rentals near Universal Studios
You don't have to fly all the way out to Hollywood, California to experience live movie magic.
With our selection of Solterra Resort vacation rentals in Davenport, it's just 24 minutes away – at Universal Studios!
See All Vacation Home Rentals Near Universal Studio Orlando
Solterra Resort Vacation Rentals near SeaWorld
SeaWorld is known for amazing live sea life   But did you know it's also one of America's top roller coaster destinations?
People come from across the US to ride America's number-one roller coaster, Mako.
But at Solterra, it's just 21 minutes away.
See All Vacation Rentals Near Seaworld Orlando
See Other Vacation Homes Besides Solterra Resort Rentals
ILoveVH is your definitive source for the best deals at the best Orlando resorts.
Discover more great Orlando vacation communities below!
See All The Resorts Rentals Orlando Florida
1. Champions Gate
Champions Gate, located just a couple miles from Solterra, is home to world-class golf and vacation rentals just minutes from Disney.
Count on ILoveVH for great deals!
See All Champions Gate Rentals
2. Reunion Resort
While Champions Gate may claim to be the champ, when it comes to vacation golf resorts in Orlando, Reunion is the more exclusive.
Here you'll find extravagant mansions with incredible lake and golf course views, and three of the best golf courses in Florida, the Nicklaus, Watson, and Palmer.
See All Reunion Resort Rentals
3. Solara Resort
When it comes to fun amenities, Solara certainly one of Orlando's best resorts.
Guests enjoy full use of a heated zero-entry pool, water slides, a lazy river, tennis, basketball, and volleyball courts, a full soccer field, and the amazing FlowRider surf simulator.
See All Solara Vacation Homes
4. Vista Cay
At vista cay, you'll find charming townhomes and cozy condos on the shores of Cay Lake.
Enjoy stunning lake views from a high rise apartment, and convenience to Disney and other attractions!
See All Vista Cay Rental
Rent Your Vacation Home By Type
No matter how fancy your hotel room is supposed to be, you more or less know what you're getting.
But with ILoveVH, you can personalize your lodging, for a customized vacation tailored to your needs.
Whether you need a pet-friendly villa, a condo with a lake view, a townhome with a private pool, or any combination of home and property type, we can help you find it near your destination.
Explore some of our home types below, or contact our team and tell us what you need.
Sensible Yet Spacious Luxury
See All Orlando Vacation Condo Rentals
See All Orlando Townhouse Vacation Rentals
Deluxe Vacation Homes
See All Orlando Vacation Home Rentals With Private Pool
See All Orlando Vacation Villa Rentals
See All Luxury Vacation Rentals Orlando Florida
Specialty Homes
See All Orlando Beach Vacation Rentals
See All Orlando Pet Friendly Vacation Rentals
Rent Your Vacation Home By Amount Of Bedrooms
If you want to expedite your booking process, searching by amount of bedrooms lets you see only the homes that will work for your sleeping needs.
Whether you need 1 bedroom, 14, or something in between, use our bedroom filter to find the perfect number of rooms for your family.
1 Bedroom Vacation Rentals In Orlando FL
2 Bedroom Vacation Rentals In Orlando FL
3 Bedroom Vacation Rentals In Orlando
4 Bedroom Vacation Rentals In Orlando
5 Bedroom Vacation Rentals In Orlando
6 Bedroom Vacation Rentals In Orlando Florida
7 Bedroom Vacation Rentals In Orlando
8 Bedroom Vacation Rentals In Orlando
9 Bedroom Vacation Rentals In Orlando
10 Bedroom Vacation Rentals In Orlando Florida
12 Bedroom Vacation Rentals In Orlando Florida
14 Bedroom Vacation Rentals In Orlando Florida
See All Vacation Homes For Rent In Orlando, FL!
Still not sure what kind of home will work best for your vacation?
Spin the wheel and see where you land at our full inventory of Orlando vacation rentals.
We handpick all of our homes for quality, community, and location.
So no matter what home you book, it comes with the ILoveVH seal of approval.
The Best Of Orlando Vacation Rentals
See The Best Solterra Vacation Rental Home Rentals And Book Now!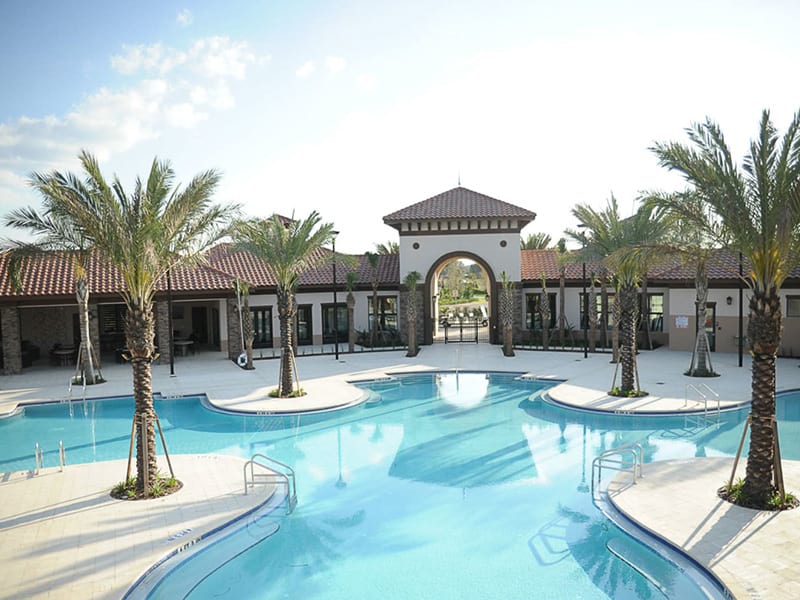 So, if you want to stay in one of Orlando, Florida's newest, best vacation home resorts near its best attractions, then Solterra is the place for you.
And ILoveVHis the agency to help you save on your booking.